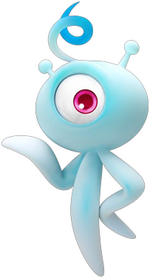 Yacker (ヤッカー, Yakkā) is a White Wisp and ambassador of the Wisps in the Colors Saga. Yacker is the one that tells Sonic, Tom, Ash and Tails about Doctor Eggman's plans. He disappears for unknown reasons before the Asteroid Coaster. He is Sonic, Ash, Tom, and Tails' silent guide to the world of Wisps, but he understands English very well, although he is unable to actually speak it. Yacker can be told apart from the other White Wisps because of a strand of curly "hair" on his head.
Appearance
Edit
Voice actor: Not Known (English), Not Known (Japanese)
As a White Wisp, Yacker is white with a blue curly hair strand and has a pink eye.
Personality
Edit
Relationships
Edit
Friends/Allies
Edit
Abilities and Powers
Edit
Yacker seems to have some kind of ability which allows him to transform Nega Wisps back into normal Wisps (although the other Wisps may share this trait).
Yacker is the only Wisp with a unique feature on him that separates him from the rest of his kind of Wisp (he has curly hair on his head, which is something that all other White Wisps don't have).
In one time during the Colors Saga, Tails mis-translates 'Yacker' as 'Talks-a-lot'. Yacking is slang for talking, comically.
Yacker is known to have a habit mimicking movements.
Ad blocker interference detected!
Wikia is a free-to-use site that makes money from advertising. We have a modified experience for viewers using ad blockers

Wikia is not accessible if you've made further modifications. Remove the custom ad blocker rule(s) and the page will load as expected.