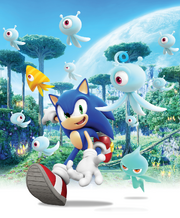 Wisps (ウィスプ, Uisupu) are an alien race that appeared in the Wisp Colors Saga that were stolen from their home planet by Dr. Eggman (whom they refer to as Baldy Nosehair), to power his interstellar amusement park. They can give Sonic different special powers to help him in the game's levels; the type of power depends on the Wisp's color. Their Hyper-go-on energy can be used once Sonic collects a Wisp Capsule. When Sonic use a Color Power, a voice will tell the player which Wisp they are using by shouting things such as "Laser!", "Drill!", and "Hover!" etc. Overall, the Wisps seem to be rather playful and friendly, spending most of their time with others and playing. They are also rather similar, both in appearance and in motion, to underwater cephalopods such as squid.
Types of Wisps
Edit
Main article: Yacker
Yacker is a specific White Wisp, who is different from all of the other Wisps. Unlike other White Wisps, he has a blue curl on his head between his antennae. Yacker plays a major part in the storyline of Wisp Colors Saga by befriending Sonic and Tails. He cannot speak English, but makes an audible chattering noise and can understand English very well. He could only be understood by Sonic and Tails through the Miles Electric. In the DS version, the Mother-Wisp is his mother.
Notes & Trivia
Edit
Ad blocker interference detected!
Wikia is a free-to-use site that makes money from advertising. We have a modified experience for viewers using ad blockers

Wikia is not accessible if you've made further modifications. Remove the custom ad blocker rule(s) and the page will load as expected.