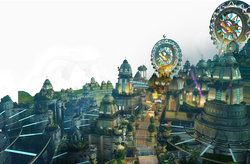 Tropical Resort (トロピカルリゾート, Toropikaru Rizōto) serves as the hotel element of Dr. Eggman's Incredible Interstellar Amusement Park as well as Ash, Sonic and his friends' starting point. It uses beautiful scenery to captivate the player, being right in the middle of a breath-taking view of planet Earth, the stars, and space. While the player blazes through the theme park at Mach 5 speeds, it is also a great place to get some interstellar shopping done.
Screenshots
Edit
Eggman's Quotes
Edit
Ad blocker interference detected!
Wikia is a free-to-use site that makes money from advertising. We have a modified experience for viewers using ad blockers

Wikia is not accessible if you've made further modifications. Remove the custom ad blocker rule(s) and the page will load as expected.