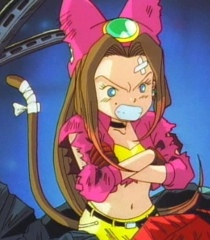 Sara (サラ, Sara), is the daughter of the President from Sonic the Hedgehog's past. She has a love interest for Sonic.
Apperance
Edit
Voice actor: Sascha Biesi (English), Mika Kanai (Japanese)
Sara is that of a female human/cat Hybrid, seeing of how she also has claws and a tail sticking out. Her eye color is light blueish green, has brown with red-tipped bangs, skin color of peach white, her height is 160 cm. (5' 3"), and weight is 53.1 kg (117 pounds)
Personality
Edit
As the daughter of the President, Sara is quite spoiled. She always expects to get her own way, throwing tantrums when she is beaten at a video game and even cajoling her kidnapper (Eggman Robotnik) to take her out for a drive when she's bored. She's also slightly selfish, claiming to Sonic that she doesn't care about Eggman or even her own father's safety, and that she really wishes him to go to Eggtropolis "for the two of them" and their relationship. She is not above using her femininity to get her way, for example kissing Knuckles to persuade him to help her father.
Relationships
Edit
Friends/Allies
Edit
Abilities and Powers
Edit