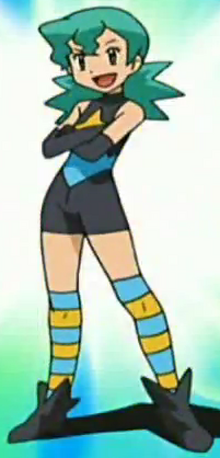 Marble (マーブル, Māburu) is Officer Jenny's younger sister who appeared in Luxray Vision!. She is also a police officer of the G.U.N. who use a Pokémon in her duty.
Appearance
Edit
Voice actor: Meghan McCracken (English), Chinami Nishimura (Japanese)
She bears some resembles to her Jenny relatives, like having greenish blue hair, and brown eyes, but she is younger and has styled the hair on her upper head.
Personality
Edit
She is very quick to jump to conclusions, and never admits when she is wrong. She often says, "I was just about to say the same thing!" She is very vain and not at all humble: "I may never be sure who spilled the beans, but now that they've all been spilled, I'm the super-duper ace detective, Marble!" Also, she is usually the one to have 'spilled the beans'.
Relationships
Edit
Friends & Allies
Edit
The Bandit Beauties Three
Ad blocker interference detected!
Wikia is a free-to-use site that makes money from advertising. We have a modified experience for viewers using ad blockers

Wikia is not accessible if you've made further modifications. Remove the custom ad blocker rule(s) and the page will load as expected.