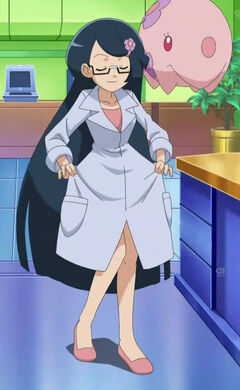 Fennel (フェンネル, Fenneru) is a Pokémon Professor and a friend of Professor Juniper who specializes in studying Pokémon Trainers and Pokémon dreams. She is sometimes referred to as Doctor Fennel (ドクター・フェンネル, Dokutā Fenneru)
Appearance
Edit
Voice actor: Therese Plummer (English), Maria Kawamura (Japanese)
Fennel is a dark blue-haired woman with blue eyes. She wears glasses and a lab coat buttoned/zipped up with a pink shirt inside, and pink shoes with no shoe lasses.
Personality
Edit
Relationships
Edit
Friends & Allies
Edit
In Dreams by the Yard Full!, She used to work as a Scientist in the Dreamyard, a once research facility, along with her Munna and two unnamed scientists, researching a Musharna's Dream Mist for a cleaner energy source. However, due to people's evil thoughts and desires on the project (which were essentially dreams), Musharna got corrupted and its Dream Mist turned black, causing an energy overload and creating a giant explosion, destroying the whole facility. Fennel, Munna and the scientists survived from the explosion, but there was no sign of Musharna.
Ad blocker interference detected!
Wikia is a free-to-use site that makes money from advertising. We have a modified experience for viewers using ad blockers

Wikia is not accessible if you've made further modifications. Remove the custom ad blocker rule(s) and the page will load as expected.