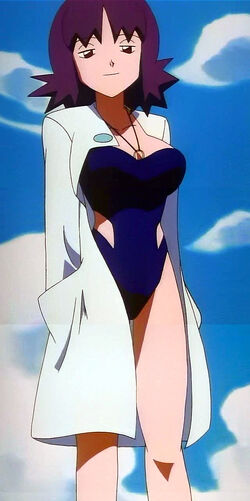 Felina Ivy (フェリナ・アイビー, Ferina Aibī) or better known as Professor Ivy (プロフェッサー・アイビー, Purofessā Aibī) is a Pokémon Professor who resides on Valencia Island with her three assistants.
Appearance
Edit
Voice actor: Kayzie Rogers (English), Keiko Han (Japanese)
She is considered very attractive, but her beautiful looks do not negate her achievements as a Pokémon researcher. She wears a lab coat, pink shoes, blue skirt, light orange sleeveless shirt, and for unknown reasons she is mostly seen with her swimsuit on while wearing her lab coat and pink shoes, and would be at least the age of 35 or more. She has purple hair, brown eyes, height is 5'8".
Personality
Edit
Relationships
Edit
Friends & Allies
Edit