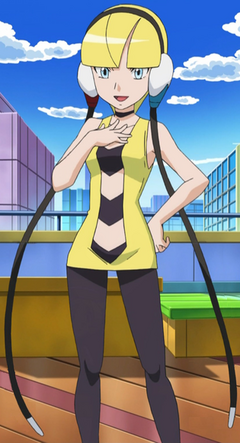 Elesa (エレサ, Eresa) is the Gym Leader of Nimbasa City's Gym, known officially as the Nimbasa Gym. She specializes in Electric-type Pokémon. She gives the Bolt Badge to Trainers who defeat her. She is also a fashion model, besides being a gym leader.
Appearance
Edit
Voice actor: Eileen Stevens (English), Yumiko Kobayashi (Japanese)
Elesa is a blond haired woman in her 20+'s, has blue eyes and has usually been seen with her head phones on. as a fashion model, she have been seen wearing different outfits, which also gave the reputation as"The Shining Beauty" (シャイニング ビューティ).
Personality
Edit
Relationships
Edit
Friends and Allies
Edit
Notes & Trivia
Edit