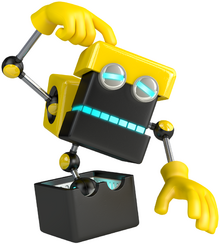 Cubot is a counterpart of Orbot and was created by Dr. Eggman. Throughout the series, he has a failure in his voice chip varying from his own voice and accent, from a cowboy accent, to a pirate accent, and finally a hippie surfer dude accent.
Appearance
Edit
Voice actor: Wally Wingert (English), Wataru Takagi (Japanese)
Cubot is a very small robot in comparison of Dr. Eggman's other creations and has a very simple design. He has a very cubical yellow head with glowing light blue eyes and mouth, his torso is compromised of a square joint with thin metal bars and his end is the half of a cube. He also seem to wear yellow-painted gloves as an attire.
Personality
Edit
Cubot isn't very bright, and is considered annoying to Dr. Eggman and Jack Robotnik. Orbot explains about him by saying: He likes Dr. Eggman, but he is lazy and tries to get out of doing any work.
Relationships
Edit
Friends and Allies
Edit
Abilities and Powers
Edit
Notes & Trivia
Edit
Ad blocker interference detected!
Wikia is a free-to-use site that makes money from advertising. We have a modified experience for viewers using ad blockers

Wikia is not accessible if you've made further modifications. Remove the custom ad blocker rule(s) and the page will load as expected.