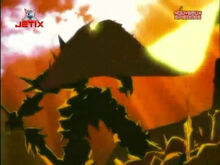 The Black Wind has known as the greatest hero throughout the history and legends of the planet Cascade and continues to go on even after his disappearance.
Appearance
Edit
Voice actor: Not Known (English), Not Known (Japanese)
Personality
Edit
Relationships
Edit
Friends/Allies
Edit
Abilities and Powers
Edit
While he may not been seen throughout the entire series, he was been seen and known in Cascade for years as Molly describes it: "We called him that because he came out of the night to fight for our people and was never seen again". Meaning, The Black Wind have swiftly fought many countless battles at night before his disappearance.
Notes & Trivia
Edit
Ad blocker interference detected!
Wikia is a free-to-use site that makes money from advertising. We have a modified experience for viewers using ad blockers

Wikia is not accessible if you've made further modifications. Remove the custom ad blocker rule(s) and the page will load as expected.